OK, a short summary of the rise and fall of Snarklangarna/FDS, as remembered by Patrik, with help from Micke.

After various incarnations as Ingenting, Kallsvett, etc, Snarklangarna where formed in 1979 in Rågsved, Stockholm.

The initial members where Eva Johansson/Pojken on vocals, Patrik Nilsson/Pinch on guitar, Micke Woxmark - formerly in Insekt - on drums and Jonas Lundborg/Picko on bass.
Later in -79 Picko left the group and was replaced by Jocke Pegard/Plutten - formerly in Trams.
Around this time the band also changed their name, to FDS.

In February -80, they recorded a self-financed EP - Paranoia. As on FDS' live performances, Micke and Jocke switched between drums and bass on different songs on the EP. Guest vocals on the song Arabien, as well as art work on the cover, was provided by Aldo Morot.

Some reviews where quite positive...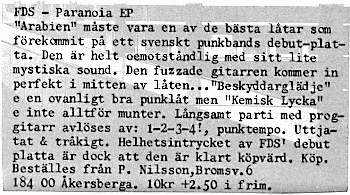 Apparently the song Paranoia from the EP later turned up on the punk rock collection Bloodstains Across The World.
In the spring/summer of 1980, the band had the pleasure of adding a fifth member, Essing, formerly of Incest Brothers.

Unfortunately, all that is left in recorded form from this latest and greatest incarnation of FDS is one studio demo and a handful of badly recorded rehearsals and live tracks.

At the end of 1980, the group split.

Micke was later seen in Brilliant Boys, Pojken in Alarm X, and Essing in Bob Hund.

You can check out the lead track from the EP, Arabien, and "Disco", a demo made after Essing joined the band - recorded for a documentary about the punk movement in Rågsved - as MP3s here: